Exceltic has collaborated in the design and construction supervision of 5 new logistics centres. The objective has been to improving the logistics network improve the logistics network of the world's largest e-commerce provider.
Through a series of tools provided by Autodesk (Revit, BIM Collaborate, Civil 3D and Navisworks) and BIM methodology, the client has been provided with a sustainable, competitive and fully controlled project.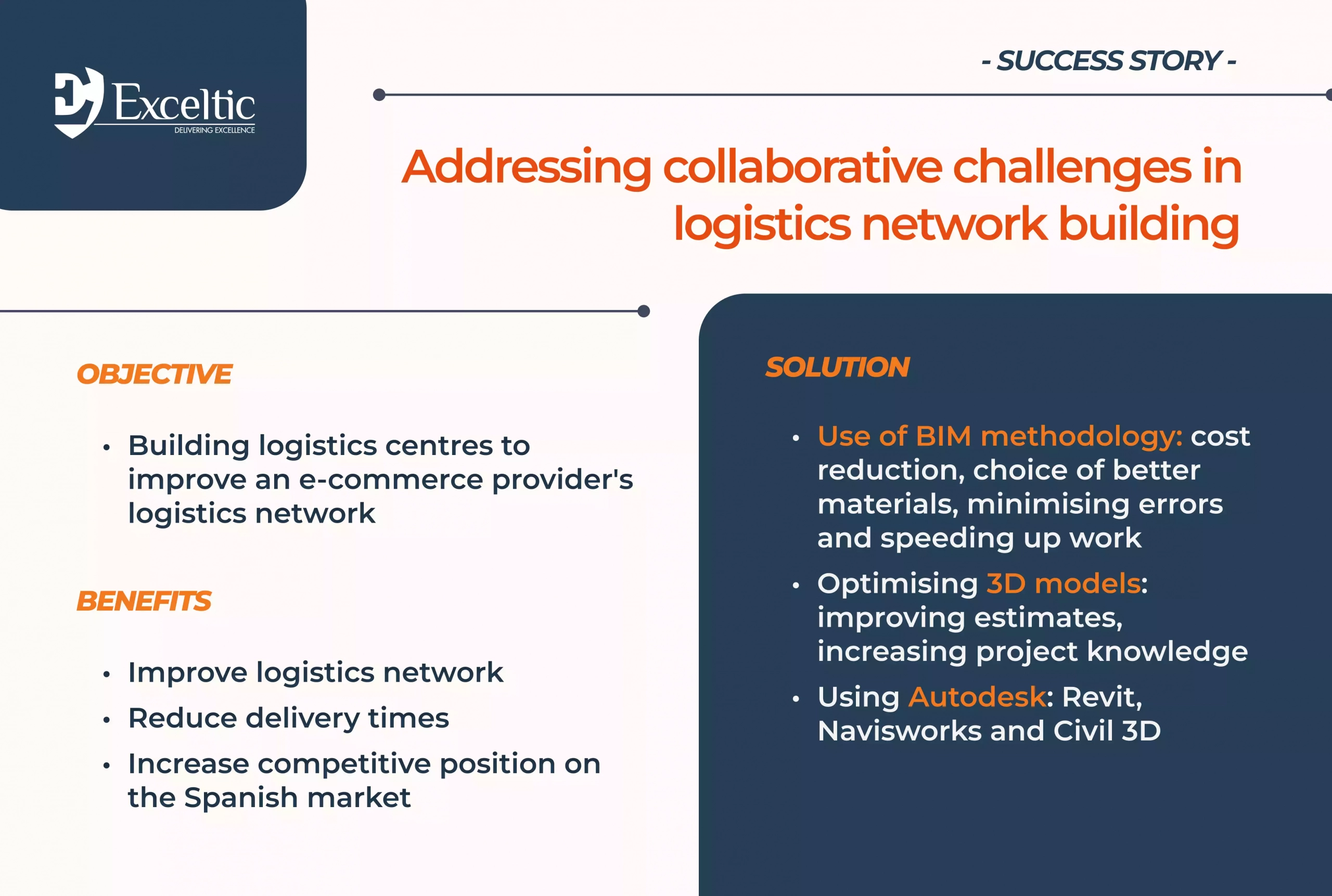 Five new logistics centres to improve the logistics network
The project consists of the construction of 5 intelligent distribution centreslocated in Castilla la Mancha, Valencia, Catalonia, Asturias and the Basque Country. They will improve the logistics network, and allow for shorter delivery times for thousands of households, increasing the customer's competitive position in the market.
The logistics platforms are equipped with first-class facilities, through which they will handle tiny items such as mobile phones, toys or books. They will be distributed throughout Spain and Europe.
Each of these centres has 180,000 m2 of office space, spread over four floors and built on a 210,000 m2 site.
The collaboration of one of the country's major engineering companies and Exceltic, have carried out this project. Our company has been in charge of the design and development of BIM Revit® project models, the development and graphic representation of technical execution details, and the preparation and extraction of plans.
BIM
At Exceltic, we have extensive experience in the development of structural engineering, geotechnical engineering, hydraulics, linear construction layout, electromechanical installations, etc. This allows us to carry out international projects in collaboration with large organisations.
The Building Information Modelling methodology has enabled us to carry out our projects with excellent results. Our department BIM has as its main focus: reducing costs, waste and scrap, helping to make better material choices, minimising human error and speeding up construction work.
Our engineers optimise the 3D models needed to execute projects in a shorter project lifecycle. They improve cost estimates, increase project knowledge and make communication and collaboration throughout the project an internalised best practice. In this way, they support the planning and construction processes.
Autodesk Solutions
Thanks to the modelling achieved with Revit, our engineers have represented several phases of the project in a single file. In addition, they have managed to give total prominence to it, and have given the ability to understand the volumetry to be built.
On the other hand, with the Navisworks tool, a synchronised visualisation of all projects has been achieved, which has allowed a leap in the coordination, analysis and communication of the construction design.
And by adding Civil 3D, we have managed to model and integrate the adjacent linear construction site.
Finally, BIM Collaborate has been decisive in the execution of the project, allowing full collaboration between the different engineering, architecture and construction teams, achieving great results.